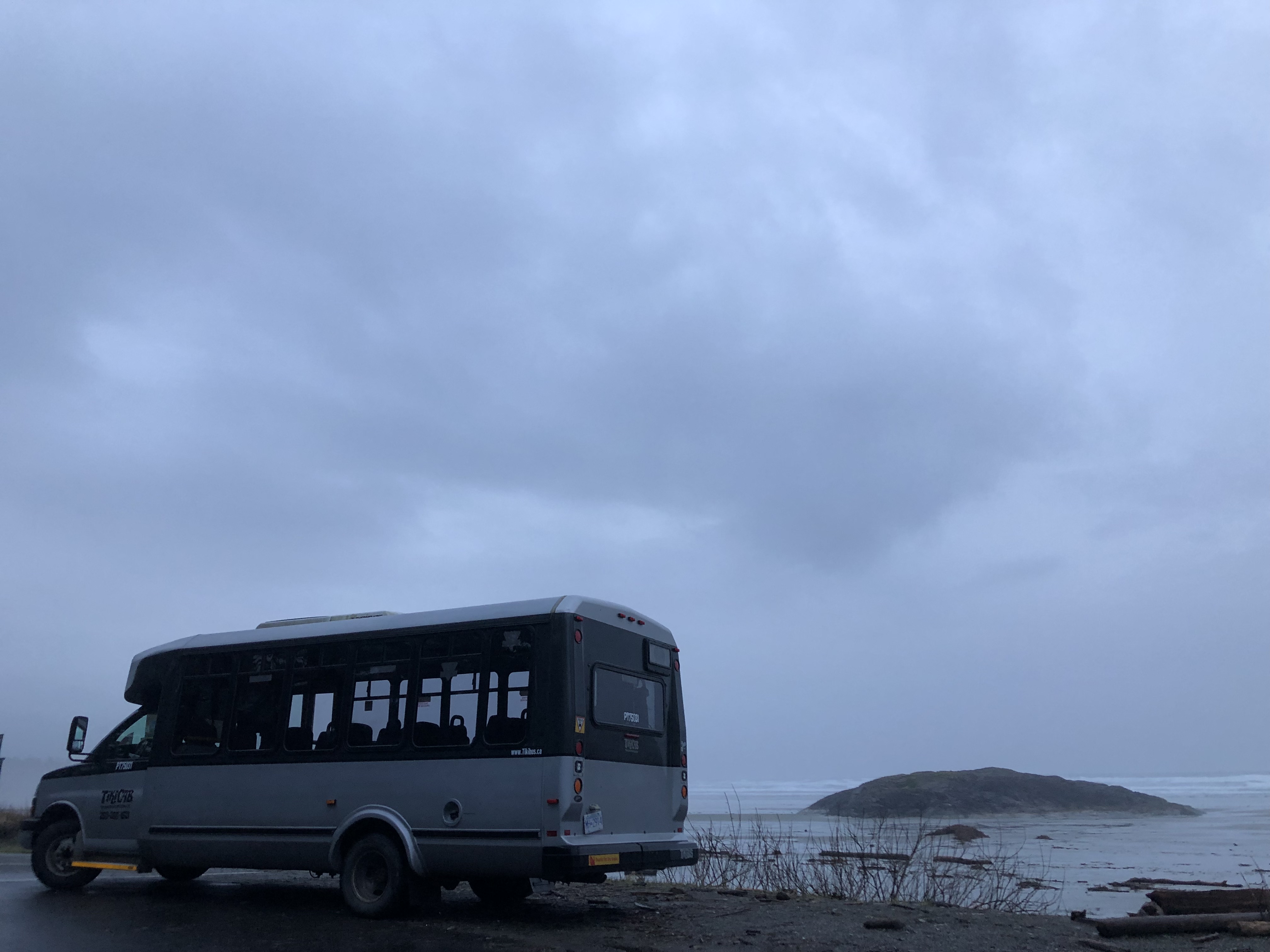 Late Bus
The Late Bus is currently operating on Friday and Saturday nights in Tofino as far as Cox Bay after the Legion and the Maq closing times departing from-
Behind The Legion in the COOP parking lot.
Across the street from The Maq at the shelter by the Stop Sign at Main and First St.
Campbell at Fourth St at the shelter on Campbell by Wolf In The Fog

Currently the first scheduled departure is at 1:15AM for those who know there is nowhere else to go this late in Tofino so you might as well start by heading closer to home.
The LAST departure is at 1:35AM for those people who stay at the bar nursing their last drink until the bartender ushers them outside to catch the last ride home for the night.
Earlier and later trips may be available by pre-arrangement
Semi-Private Shuttle
Sometimes you may almost see TikiBus as a Scheduled Bus Service (we're almost there…) but until then we can be YOUR groups Scheduled Bus Service.

Noon – 11PM Wednesday – Saturday and

Noon – 6PM on Sunday
Not a tiny inefficient Taxi but a 20 passenger Community Transit peoplemoving sized Shuttle bus…
We are not the Taxi here in town but you may just happen to find that nearly door-to-door bus service is a better solution to your Tofino transportation needs.  You may find you have a bus to yourselves, or, you might be sharing with others going the same way.
This Service DOES NOT operate on most Mondays and Tuesdays. Please call to check potential availability.

Flexible Schedule (Pick-up is 30 to 45 minutes after your call if you're the 1st call of the run)
There's 20 seats so there's plenty of room for everybody in one trip.
Service to Tofino Resorts, Restaurants, Residences, Vacation Rentals

(when access is possible)

Mackenzie Beach

starting from $20 for 5 people and $2.50 per additional person (+ GST)


Cox Bay

starting at $25 for 5 people and $2.50 per additional person(+ GST)

Same Day Reservations Accepted (Call me after you make your dinner reservations to book a pick-up time)
Round-trip rates are available when booked and payed for at time of original drop-off
Weekend Transit Project
Might as well make the most use of the weekend. Friday and Sunday service as far as Long Beach (Tofino) Airport from downtown Tofino. Saturday Service only as far as Cox Bay.

Friday –

Saturday –
Sunday-
More info coming soon…
* Special Late Bus Service also running for FUNKY BEHAVIOUR special presentations.
Next Show: April 23rd Father Funk

Regular weekly Industry Tuesday nights at the Tofino Legion by advance booking only.